The Winter's Tale: Complete (Paperback)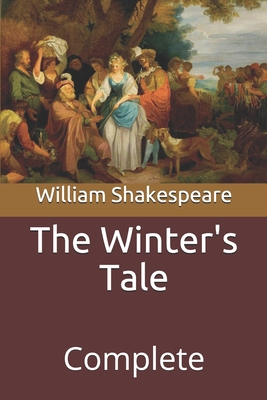 $11.99
Email or call for price.
Description
---
HERMIONE.Take the boy to you: he so troubles me, 'Tis past enduring.FIRST LADY.Come, my gracious lord, Shall I be your playfellow?MAMILLIUS.No, I'll none of you.FIRST LADY.Why, my sweet lord?MAMILLIUS.You'll kiss me hard, and speak to me as ifI were a baby still. I love you better.SECOND LADY.And why so, my lord?MAMILLIUS.Not for becauseYour brows are blacker; yet black brows, they say, Become some women best, so that there be notToo much hair there, but in a semicircleOr a half-moon made with a pen.SECOND LADY.Who taught this?MAMILLIUS.I learn'd it out of women's faces. Pray now, What colour are your eyebrows?FIRST LADY.Blue, my lord.MAMILLIUS.Nay, that's a mock. I have seen a lady's noseThat has been blue, but not her eyebrows.FIRST LADY.Hark ye, The queen your mother rounds apace. We shallPresent our services to a fine new prince23One of these days, and then you'd wanton with us, If we would have you.SECOND LADY.She is spread of lateInto a goodly bulk: good time encounter her HERMIONE.What wisdom stirs amongst you? Come, sir, nowI am for you again. Pray you sit by us, And tell 's a tale.MAMILLIUS.Merry or sad shall't be?HERMIONE.As merry as you will.MAMILLIUS.A sad tale's best for winter. I have oneOf sprites and goblins.HERMIONE.Let's have that, good sir.Come on, sit down. Come on, and do your bestTo fright me with your sprites: you're powerful at it.MAMILLIUS.There was a man, -HERMIONE.Nay, come, sit down, then on.MAMILLIUS.Dwelt by a churchyard. I will tell it softly, Yond crickets shall not hear it.HERMIONE.Come on then, And give't me in mine ear.Enter LEONTES, ANTIGONUS, Lords and Guards.LEONTES.Was he met there? his train? Camillo with him?FIRST LORD.Behind the tuft of pines I met them, neverSaw I men scour so on their way: I ey'd themEven to th.