Partum (Paperback)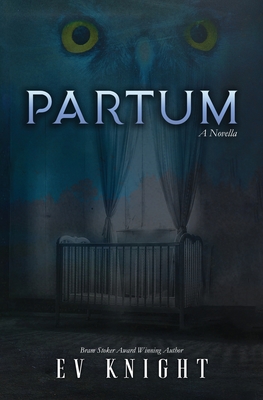 $7.99

Usually Ships in 1-5 Days
Description
---
Lena Fitchett lost her four-month-old baby to SIDS while suffering from postpartum depression. Her grief and online search for answers leads her down a rabbit hole of alien abduction/invasion theories.
Certain that her baby died from repeat abductions, she becomes convinced that a strange new parasitic epidemic is a further sign of an imminent alien invasion.
Postpartum psychosis or genius level foresight? Lena's friends and family are about to find out.
About the Author
EV Knight is the author of the Bram Stoker winning debut novel The Fourth Whore. Her short stories and poetry can be found in a number of anthologies, magazines, and the HWA's 2019 Poetry Showcase. She received her MFA in Writing Creative Fiction from Seton Hill University in 2019. A lover of all things dark and creepy, EV can be found wandering the haunted streets of Savannah, Georgia with her husband Matt, and their three naughty sphynx cats-Feenix, Bizzabout Fitchett, and Ozymandias Fuzzfoot the First.