The Poison Eaters: and Other Stories (Hardcover)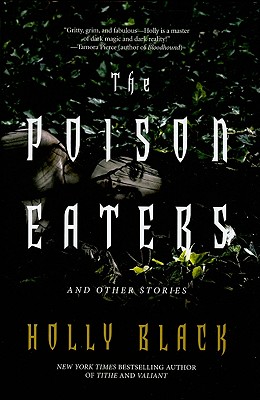 $17.99
Email or call for price.
Description
---
A dark and fantastic collection of stories from the author of Tithe and The Spiderwick Chronicles.
About the Author
---
Holly Black's first novel "Tithe: A Modern Faerie Tale," was published in 2002 by Simon & Schuster. "Tithe" received starred reviews from "Publishers Weekly" and "Kirkus Reviews," and was included in the American Library Association's Best Books for Young Adults. Holly has since written two other books in the same universe, "Valiant" and a sequel to "Tithe, New York Times" bestseller "Ironside." "Valiant" was a finalist for the Mythopoeic Award and received the Andre Norton Award.

Holly collaborated with her long-time friend, Caldecott Award-winning artist, Tony DiTerlizzi, to create the bestselling Spiderwick Chronicles which include eight novels as well as the lavishly illustrated "Arthur Spiderwick's Field Guide to The Fantastical World Around You, The Notebook for Fantastical Observations, " and "Care and Feeding of Sprites." The Chronicles have been translated into 32 languages and been into adapted into a major motion picture.

Holly has also been a frequent contributor to anthologies, and has co-edited three: "Geektastic" (with Cecil Castellucci), "Zombies vs. Unicorns" (with Justine Larbalestier), and "Bordertown" (with Ellen Kushner).

She is working on "Black Heart," the third novel in The Curse Workers series--about capers, curse magic, and memory--which follows "White Cat" and "Red Glove."

Holly lives in Massachusetts with her husband, Theo, in a house with a secret library.
Praise For…
---
"Black's first story collection assures her place as a modern fantasy master…. Sly humor, vivid characters, each word perfectly chosen: These stories deserve reading again and again."
—Kirkus Reviews (starred review)

"Black (the Good Neighbors series) proves equally adept at urban fantasy and more traditional fairy tales, and her stories often feature the edgy sexuality and angst that have become her trademarks."
—Publishers Weekly

"Black's got all the supernatural bases covered: vampires, fairies, an elf, a unicorn, wolves, the devil, and a spell-wielding high school Latin club.... Although they are often centered on bleak, dark characters, the pieces inspire hope, are touching and delightful, and even turn the most ghoulish characters into feeling beings."
—School Library Journal

"Compelling, rich and engaging."
—Bulletin of Ctr for Child Books

"Gritty, grim, and fabulous—Holly is a master of dark magic and dark reality!"
—Tamora Pierce (author of Bloodhound)

"Holly Black is the Real Thing: a gifted writer with a solid grounding in what matters. Her stories are dark and splendid blooms rising from roots sunk deep in myth and tradition."
—Ellen Kushner (author of The Privilege of the Sword)

"Simply put, Holly Black is one of our best writers. Enchanting and edgy, yes, but it's the big heart in her stories that brings me back to her writing, time and again. Reading a new book by Holly is like meeting up with an old friend. They might be a little messed up from the last time you saw them, they might have some serious drama going on in their lives, but the connection is immediate, and when they're packing up to head off again, you don't want to let them go."
—Charles de Lint (author of The Blue Girl)

Praise for Holly Black's books:

"Black's series [is] considered to have kick-started the fairy trend in young adult fantasy."
—New York Times Book Review

"Black has an eye for the telling detail that brings the most minor character to life."
—Kirkus Reviews (starred)

"Dark, edgy, beautifully written, and compulsively readable, this is sure to be a word-of-mouth hit with teens, even a few usually unmoved by magic and monsters."
—Booklist