The Ant King: And Other Stories (Paperback)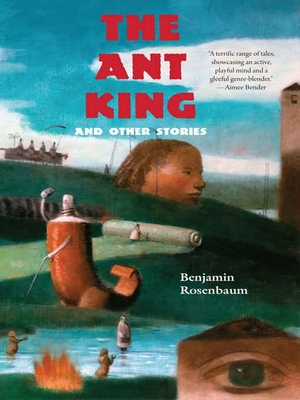 Description
---
Rosenbaum's The Ant King and Other Stories contains invisible cities and playful deconstructions of the form. In Biographical Notes to 'A Discourse on the Nature of Causality, With Air-Planes, ' by Benjamin Rosenbaum--yes, his name is part of the title--the author imagines a world whose technologies and philosophies differ wildly from ours. The result is a commentary on the state of the art that is itself the state of the art.
--Los Angeles Times Favorite Books of 2008
* Give him some prizes, like, perhaps, best first collection for this book.
--Booklist (Starred review, Top 10 SF Books of the Year)
Featuring outlandish and striking imagery throughout--a woman in love with an elephant, an orange that ruled the world--this collection is a surrealistic wonderland.
--Publishers Weekly
Rosenbaum proves he's capable of sustained fantasy with Biographical Notes, a steampunkish alternate history of aerial piracy, and A Siege of Cranes, a fantasy about a battle between a human insurgent and the White Witch that carries decidedly modern undercurrents.... Perhaps none of the tales is odder than Orphans, in which girl-meets-elephant, girl-loses-elephant.
--Kirkus Reviews
Urbane without being arch, sweet without being maudlin, mysterious without being cryptic.--Cory Doctorow, Boing Boing
Lively, bizarre, and funny as well as dark, sinister, and sensual.
--Boston Phoenix
A dazzling, postmodern debut collection of pulp and surreal fictions: a writer of alternate histories defends his patron's zeppelin against assassins and pirates; a woman transforms into hundreds of gumballs; an emancipated children's collective goes house hunting.
Benjamin Rosenbaum's stories have appeared in Asimov's Science Fiction and McSweeney's, been translated into fourteen languages, and listed in The Best American Short Stories 2006. Shortlisted for the Hugo and Nebula awards, Rosenbaum's work has been reprinted in Harper's and The Year's Best Science Fiction. He lives in Switzerland with his family.
About the Author
---
Benjamin Rosenbaum (benjaminrosenbaum.com) grew up in Arlington, Virginia, and received degrees in computer science and religious studies from Brown University. His work has been published in Harper's, Nature, McSweeney's, F&SF, Asimov's, Interzone, All-Star Zeppelin Adventure Stories, and Strange Horizons. Small Beer Press published his chapbook Other Cities. He and his family live in Switzerland.