Fountain of Age: Stories (Paperback)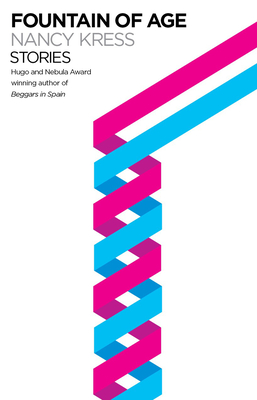 Description
---
Nine new stories from a long-time star of the science fiction field including the Hugo Award winner The Erdmann Nexus and Nebula Award winner The Fountain of Age. These stories have been reprinted in The Year's Best Science Fiction, Best Science Fiction and Fantasy of the Year, and Best of the Web.
Kress unpacks the future the way DNA investigators unravelled the double helix: one gene at a time. In many of these stories gene sculpting is illegal yet commonplace and the effects range between slow catastrophe ("End Game"), cosmic ("First Rites"), and tragic ("Safeguard"). Then there's the morning when Rochester disappears and Jenny has to rely on "The Kindness of Strangers." There's Jill, who is kidnapped by aliens and trying to learn the "Laws of Survival." And there's Hope, whose Grandma is regretting the world built "By Fools Like Me."
About the Author
---
Nancy Kress is the author of thirty books, including four collections of short stories, and three books on writing. For sixteen years she was the fiction columnist for Writers Digest magazine. She is perhaps best known for the "Sleepless" trilogy that began with Beggars in Spain. Her work has won four Nebulas, two Hugos, a Sturgeon, and the John W. Campbell Award. Most recent books are a collection an SF novel, Steal Across the Sky; a YA fantasy written under the name Anna Kendall, Crossing Over; and a short novel of eco-terror, Before the Fall, During the Fall, After the Fall. Kress lives in Seattle with her husband, SF writer Jack Skillingstead, and Cosette, the world's most spoiled toy poodle.
Praise For…
---
Quality oozes from every page. A master class in the art of short-story writing." Kirkus Reviews
Passions are magnified by age and the world only becomes more unpredictable in Kress's new collection, anchored by the Nebula-winning title novella. The nine stories, published over the course of just two years, wrestle with themes of love, death, and transformation. . . . Kress's depiction of science is much like her characters' experiences with love: by turns glorious and terrible, and always a little disturbing, even in triumph." Publishers Weekly

Praise for Nancy Kress's previous books:

Nancy Kress Has the true storyteller's Giftthe ability to make her characters and what happens to them so vital that the reader's heart aches." Stephen R. Donaldson
Nancy Kress comprehends the grimy relationships among bioscience, technology, and politics; and soon we will too, if only enough of us read her. Too soon it cannot be." Gene Wolfe
Nancy Kress has written a novel that graphically disects the roots of human violence while affirming the invincibility of the human spirit. An Alien Light is both provocative and insightful." Julian May
Kress's villains are not diabolical conspirators but willfully ignorant hypocrites, shortsighted and greedy dunderheads, the well-intentioned half-bakedin short, us. But we are also the heroes whose generosity, honesty and energy could turn our lemming tribe away from the polluted waters ahead." Washington Post
The plotting is fast-paced, the characterization is good, and science explained in easily digestible portions." New Scientist
The kind of thriller that continually makes you want to turn the pages faster than you can read them." SF Site
That Kress remains a master is everywhere evident." Booklist
The keeness of vision to. . . see the possibilities for the future very clearly, and they are both fascinating and frightening." San Francisco Examiner and Chronicle