Hound (Paperback)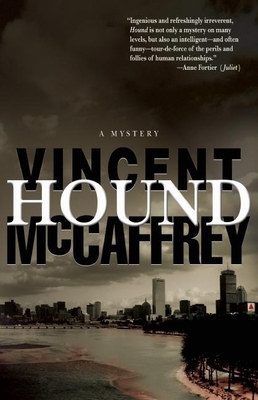 Description
---
Selected as a Must-Read by the Massachusetts Book Awards.
Ingenious and refreshingly irreverent, Hound is not only a mystery on many levels, but also an intelligent and often funny tour-de-force of the perils and follies of human relationships. McCaffrey has a gift for crafting quirky characters and original dialogue, and the path of our hero, Henry, is always wonderfully unpredictable. I came away from this 'book noir' with a sense of catharsis, but also with a sudden desire to reread and rethink all the great classics to which McCaffrey alludes in his terrific novel.--Anne Fortier, author of Juliet
As much about books--and love and knowledge and family--as about murder, Hound is the first in McCaffrey's projected trilogy, and book lovers will eagerly await Henry's next outing.--Richmond Times-Dispatch
McCaffrey, the owner of Boston's legendary Avenue Victor Hugo Bookshop, succeeds in conveying his love of books in his intriguing debut.--Publishers Weekly
Hound is the first of three novels featuring bookhound Henry Sullivan. When an ex-lover is murdered, he mounts an unofficial investigation into her death that leads him through the murky depths of both Boston's literary world and his own past.
Vincent McCaffrey has owned the Avenue Victor Hugo Bookshop for more than thirty years. He has been paid to do lawn work, shovel snow, paint houses, and to be an office-boy, warehouse grunt, dishwasher, waiter, and hotel night clerk. He has chosen at various times to be a writer, editor, publisher, and bookseller. Hound is his first novel.