Perfect Circle (Paperback)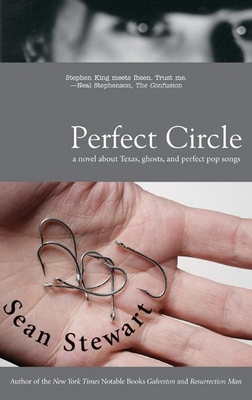 Description
---
William "Dead" Kennedy is in trouble. He's thirty-two, in love with his ex-wife, has lost his job, and he's been dreaming about ghost roads again. Sometimes a guy is haunted for a really good reason.
-- Nebula and World Fantasy Award finalist
-- A Book Sense Notable Book
-- Best of the Year: Booklist, Locus, San Francisco Chronicle
-- A Locus bestseller
Stewart's quicksilver wit makes
Perfect Circle
perfectly hilarious. And, a supremely skilled storyteller, he saves the best for last.
--
Texas Monthly
Stewart's mastery of Will's first-person narration is unflinching and unfaltering. The voice conjured here is absolutely authentic and affecting.
--
Washington Post
Stewart's compelling account of how DK comes to grips with his ghosts, both actual and metaphorical, is alternately poignant and hilarious, with some genuinely creepy moments and one or two powerful jolts.... Compelling ... with strong potential for crossing over into the mainstream.
--Publishers Weekly
All-around terrific.--Booklist (starred review)
By turns heartbreaking and hilarious, Perfect Circle is ... an impressive example of an author using genre resources to stake out a territory that, for the moment at least, no one but he occupies.
--Locus
A read-at-one-go novel.... Everything is both stated and understated, elegant, full of the mundane horror and fear that inform a normal, frustrated life.... And it is well, well worth the reading. A highly recommended work.
--
F&SF
Sean Stewart's much-anticipated eighth novel is a dark, funny, fast-moving thriller that you won't want to put down. William Dead Kennedy has problems. He's haunted by family, by dead people with unfinished business, and by those perfect pop songs that you can't get out of your head. He's a 32-year-old Texan still in love with his ex-wife. He just lost his job at Pet-Co for eating cat food. His air-conditioning is broken, there's no good music on the radio, and he's been dreaming about ghost roads.
When Will's cousin (My dad married your Aunt Dot's half-sister) calls in the middle of the night about a dead girl haunting his garage, it seems like an easy way to make a thousand dollars. But nothing is ever that simple, especially when family is involved. Will's mother is planning a family reunion of epic proportions. Will's ex-wife is married to a former Marine. His twelve-year-old daughter Megan thinks Will needs someone to look after him. And recently his dead relatives seem to want something from him.
+++ punk attitude: country & western life +++
Perfect Circle is a perfect read, exciting, unique, everything here but the Second Coming, but, Sean Stewart himself is the prize. What a talent. Write on, my man. Write on.
--Joe Lansdale
Needy Ghosts, bar fights, concealed weapons, R.E.M., and ramen noodles--Perfect Circle is an irreverent Texas treat. Sean Stewart is one bright, funny writer.
--Stewart O'Nan
Will Kennedy has some troublesome relatives. Especially the dead ones.
Perfect Circle
is Sean Stewart at his spooky, funny, sad, and haunting best.
--Karen Joy Fowler
A ghost story for grown-ups, frightening, funny, and finally redemptive. It kept me up way past my bedtime.
--Harley Jane Kozak
I read it all in one gulp, by turns fearful and joyful for Stewart's likable loser protagonist.
--Cory Doctorow
If Oprah read science fiction...This quirky, engaging novel tells the story of William Dead Kennedy, a thirtysomething former punk rocker and down-on-his-luck divorced dad--who sees ghosts. After a visit to his haunted cousin goes horribly wrong, DK finds himself getting lots of attention--mostly the wrong kind--from both the living and the dead. Funny and thought-provoking
--Carol Schneck, Schuler Books and Music, Okemos, MI
My favorites among Sean Stewart's books are those that hover on the edge of our reality. His characters, like William Dead Kennedy are much like my friends and relatives -- although if any of my relatives are seeing ghosts, they haven't mentioned this to me. Will leads a not-quite life in Texas, working in dead end jobs, and yearning to reconnect with his ex-wife, and trying to avoid ghosts. When a cousin calls with a ghost-busting request, his financial offer is more than Will can resist. But accepting the job opens Will up to a whole new level of darkness. Great prose (Stewart has some of the best metaphors going) and a melancholy mood, like music half-remembered.
--Maryelizabeth Hart, Mysterious Galaxy Bookshop, San Diego, CA
Sean Stewart is the author of the I Love Bees and Beast search operas, two short stories and seven novels: Perfect Circle, The Night Watch, Nobody's Son, Clouds End, Passion Play, Resurrection Man, and Galveston. With Jordan Weisman, he is the author of Cathy's Book and Cathy's Key. His novels have received the Aurora, Arthur Ellis, Sunburst, Canadian Library, and World Fantasy awards. He lives in Davis, CA, with his wife and two daughters.
About the Author
---
Sean Stewart is the author of the innovative I Love Bees and Beast search operas, two short stories, and the novels Perfect Circle, Mockingbird, Galveston, Clouds End, Nobody's Son, Passion Play, and Resurrection Man.