Solitaire (Paperback)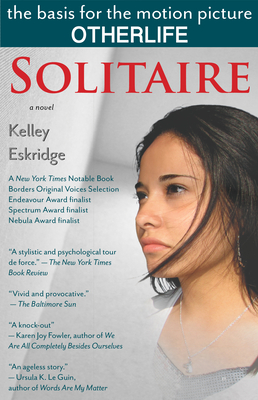 $16.00
Email or call for price.
Description
---
Now a motion picture: OtherLife. A New York Times Notable Book, Borders Original Voices selection, and Nebula, Endeavour, and Spectrum Award finalist. Suspenseful and inspiring.--School Library Journal A stylistic and psychological tour de force.--The New York Times Book Review Jackal Segura is a Hope: born to responsibility and privilege as a symbol of a fledgling world government. Soon she'll become part of the global administration, sponsored by the huge corporation that houses, feeds, employs, and protects her and everyone she loves. Then, just as she discovers that everything she knows is a lie, she becomes a pariah, a murderer: a person with no community and no future. Grief-stricken and alone, she is put into an experimental program designed to inflict the experience of years of solitary confinement in a few short months: virtual confinement in a sealed cell within her own mind. Afterward, branded and despised, she returns to a world she no longer knows. Struggling to make her way, she has a chance to rediscover her life, her love, and her soul--in a strange place of shattered hopes and new beginnings called Solitaire. Kelley Eskridge is a novelist, essayist, and screenwriter. Her stories have received the Astraea Award and been adapted for television. A movie based on Solitaire is in development. She lives in Seattle with her partner, novelist Nicola Griffith.

About the Author
---
Kelley Eskridge: Kelley Eskridge's novel Solitaire was a New York Times Notable Book and a Borders Books Original Voices selection, and a finalist for the Nebula, Spectrum, and Endeavour awards. Her stories have appeared in magazines and anthologies in the United States, Europe, Australia and Japan, won the Astraea Award and been finalists for the Nebula and James Tiptree awards. Her collection Dangerous Space was published by Aqueduct Press. Her story "Alien Jane" was adapted for television and a film adaptation of Solitaire titled OtherLife was produced by Cherry Road Films. She lives in Seattle, WA.
Praise For…
---
An ageless story."
Ursula K. Le Guin (A Wizard of Earthsea)

A knock-out . . . wonderful!"
Karen Joy Fowler (The Jane Austen Book Club)

Solitaire is a novel of our time: a story of dashed expectations and corporate manipulations. Eskridge explores what it means to really see ourselves, and what we are ultimately capable of. Jackal, a slight adolescent, matures into an adult capable of living well, no matter what her circumstances. She is a worthy role model for any reader."
BookPage

Vivid and provocative."
The Baltimore Sun

As with Eskridge's short fiction, the vividness of the characters is what makes this book so memorable."
Locus

Psychological insights that would warm the heart of Alice Hoffman."
The Seattle Times