Meet Me in the Moon Room: Stories (Paperback)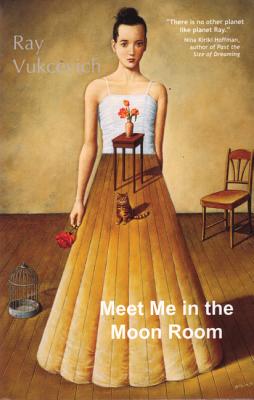 Description
---
* Philip K. Dick Award finalist
* Locus Recommended Reading
Here are 33 weird, wonderful stories concerning men, women, teleportation, wind-up cats, and brown paper bags. By turns whimsical and unsettling--frequently managing to be both--these short fictions describe family relationships, bad breakups, and travel to outer space.
Vukcevich's loopy, fun-house mirror take on everyday life belongs to the same absurdist school of work as that of George Saunders, David Sedaris, Ken Kalfus, and Victor Pelevin, although there is no one quite like him. Try one of these stories, it won't take you long, but it will turn your head inside out.
What other writer could make you start laughing halfway down the first page of a story about a man putting on a sweater? Thurber maybe, a long time ago. Buy this book.
--Damon Knight
These stories cannot be compared to anyone else's. There is no one in the same class as Ray Vukcevich. The stories are uniquely, splendidly, brilliantly original, a surprise in each and every one, and brimming with wit and laugh-out-loud humor. A stunning collection.
--Kate Wilhelm
The absurd and the profound are seamlessly joined through fine writing. Meet Me in the Moon Room is a first-rate collection.
--Jeffrey Ford
The 33 brief stories in Meet Me in the Moon Room defy categorization genre. A few toy with the conventions of science fiction; others branch off from trails blazed by Donald Barthelme. Moon Room will delight those who appreciated the risks Don DeLillo took in Ratner's Star.
--Hartford Courant
Eccentric short stories, which frequently give everyday life a loopy twist.
--Book Magazine
Ray Vukcevich is a master of the last line. Almost every one of his stories has a zinger at the end, but not the kind of zinger that chocks the reader or causes annoyance. Often it's a perfect line of dialogue that opens up the whole story.... Vukcevich is ingenious with the short-story form. Although the stories read as playful vignettes, Vukcevich covertly works in ideas of self, identity, destiny, and obsession. And occasionally, the dangers of outer space.
--Review of Contemporary Fiction
Vukcevich is a master of radical recombinations, drawing from (amongst others) the Brothers Grimm, Dickens, Lewis Carroll, Kafka, O. Henry, Dali, Asimov, pulpish space opera, and the latest in nanotech to produce works that are all his own. Sometimes in as little as four or five pages, he deftly juggles so many ideas, emotions, and perspectives, it produces a curiously refreshing sense of vertigo--a high with no hangover to follow.... It would be...a great mistake to ignore the extraordinary talent of Ray Vukcevich.
--Locus
Vukcevich is a very slick writer, an authentic sprinter in an era of milers and all-out stayers.... Vukcevich can do punchlines, but he does not rely on them. Indeed, his extraordinarily light touch when it comes to narrative closure is his most distinctive feature. Anyone who considers bizarre surrealism and casual absurdity--the main stocks-in-trade of the fantastic ultrashort story writer--easy clay to mold into narrative form has not given serious consideration to the matter of finishing.
--New York Review of Science Fiction
These stories niftily propel their characters down the blurred line between fantasy and psychosis, with effects spanning the gamut from melancholy to goofy, from plaintive to outraged.... This is Vukcevich's gloriously mad world, and we are lucky to share it.
--Asimov's
The same antic spirit that imbued Vukcevich's mystery novel The Man of Maybe Half-a-Dozen Faces moves playfully through this first collection of fantastic fiction, whose 33 helium-filled stories achieve just the right absurdist life to escape the gravity of their themes. By the Time We Get to Uranus offers a peculiarly affecting take on terminal illness: the afflicted grow buoyant spacesuits that force them to leave loved ones behind. The mysteries of parenthood manifest amusingly in Poop, about a couple who discover that their newborn's diaper fills variously with birds, mice, and symphonic music. Though deceptively simple in their pared-down style, the vignettes show meticulous care in the crafting of oddball metaphors to express the moods of their estranged spouses, exasperated lovers, competitive children, and disgruntled employees. The willingness with which the author's characters accept the incongruity of their situations often yields profoundly moving insights into the human condition. In the poignant title tale, for example, a man does not find it at all strange that a lover from decades past has summoned him to a simulated moon landscape at a theme park, reflecting that the meaning of life really is nothing more than a couple of people huddling close for comfort in a cold universe. Inventive and entertaining, these stories yield more emotional truth than much more comparatively realistic fiction.
Forecast: With blurbs from Damon Knight, Kate Wilhelm and Jeffrey Ford, this collection is a quality item that should benefit from good word of mouth.
--Publishers Weekly
A man pulls the sweater his girlfriend made him over his head and nearly gets lost inside it. Rescued from the arctic ice, the dying Victor (Frankenstein) tells a story that leaves little doubt that the monster is James Joyce or Stephen Dedalus or Finn (again). Tim saves the world from a comet by having his family put paper bags over their heads. What? What? What? Calm down. This is just the world according to Ray Vukcevich, sf-ish enough to get him into The Magazine of Fantasy & Science Fiction and Asimov's, but also resembling the fantastic milieus of Gogol, Kafka, and Looney Toons. Whether you cotton to it depends on how you feel about cartoons made of words and prisons made of logic: are you afraid of amused? Actually, either reaction works for appreciating Vukcevich's outlandish virtuosity. Sf fans with long memories will note Vukcevich's deadpan delivery and jokey-creepy aura, recall the wonder-workings of Fredric Brown (see From These Ashes BKL Ap 15 01] and smile.
--Booklist
Ray Vukcevich should be as revered as Donald Barthelme or Salvador Dali in the pantheon of modern surrealists. Unjustly deprived of such honors, he should at least be allowed a few weeks in a time-share vacation condo with Don Webb, Rick DeMarinis, Mark Leyner and James Blaylock, literary peers whose absurdist take on existence Vukcevich shares. Did I mention that the condo would occupy an abandoned ICBM silo, as in Ray's creepily twisted ghost story, Pretending? Or perhaps the luxury beach house would perch on a few square inches of the scalp of the barbershop patron who boasts a monkey-filled jungle in his hair, in The Barber's Theme. The writers' relaxathon could also take place in the outer reaches of our Solar System, once the lucky vacationers grow their organic spacesuits, as average folks do in By the Time We Get to Uranus. Or as a last choice, the writers might congregate in the mysterious highway median of Fancy Pants, where metamorphoses that would baffle Ovid occur.
Wherever the greats hold their Beach Blanket Oulipo, Vukcevich will doubtlessly be the life of the party. Alternately melancholy and boisterous, plaintive and assertive, sensitive and outrageous, serious and goofy, Vukcevich's stories portray a universe not only stranger than the average person imagines, but stranger than he or she can imagine It's an uncommon, even scary intellect and vision and talent that can make us believe in wisdom out of a baby's butt (Poop) o.
About the Author
---
Ray Vukcevich lives on the coast of Oregon and works at the University of Oregon. He is the author of the novel, The Man With Maybe Half-a-Dozen Faces, and his short stories have appeared in Hobart, F&SF, Year's Best SF, Scifiction, The Infinite Matriz, Strange Horizons, and more.