Indomitable (Kris Longknife #18) (MP3 CD)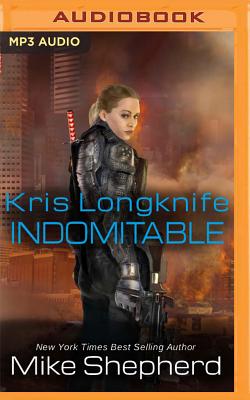 $29.99
Email or call for price.
Other Books in Series
This is book number 18 in the Kris Longknife series.
Description
---
Grand Admiral, Her Royal Highness Kris Longknife, commander of the Iteeche Imperial Combined Fleets has the enemy on the run. Literally. The last time she entered a rebel system, every disloyal ship picked up its skirts and ran.
So why has she been ordered, as in requested and required, to make a formal report to the Emperor? Ron the Iteeche and his two young Iteeche Counselors have little to say on the subject except that some Iteeche think Kris is winning too much, too fast.
What human combat commander has ever heard those words?
Worse, when Kris returns to the capital, no one wants to sell her a ticket on the space elevator. Driving the streets is dangerous...not two roadside bombs but three detonate Now she's got her embassy in sight and she can't get in
What kind of games are the clan lords playing? What threats are being hatched against the young Emperor? Even more pressing, how does Kris get back into her embassy and back to her kids? The Iteeche Empire claims it has a 10,000-year history and traditions for every possible situation. However, they've never run into Kris Longknife Indomitable.