The Great Devourer: The Leviathan Omnibus (Warhammer 40,000) (Paperback)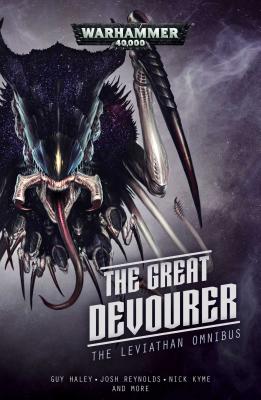 Description
---
Fantastic value omnibus delving into mankind's struggle against the world-devouring and galaxy-threatening aliens known as the Tyranids.

As billions upon billions of tyranids sweep through the galaxy, consuming every living soul and world in their path, it seems all will soon fall to the ravenous xenos. Faced with foes beyond number, Space Marines and their common enemy the eldar face an impossible dilemma – do they fight to the last honour, or retreat to safety for the future of their race? This omnibus contains the novel Valedor by Guy Haley, alongside four novellas and a host of short stories by some of Black Library best-known authors, including Josh Reynolds, Nick Kyme and L J Goulding.


About the Author
---
Joe Parrino is the author of a range of Warhammer 40,000 stories, including the novella Shield of Baal: Devourer, the audio dramas Alone, Damocles: The Shape of the Hunt and Assassinorum: The Emperor's Judgement, and the short stories 'Witness', 'The Patient Hunter', 'Nightspear', 'In Service to Shadows' and 'No Worse Sin'. He lives, writes and works in the American Pacific Northwest.

L J Goulding is the author of the Horus Heresy audio drama The Heart of the Pharos, while for Space Marine Battles he has written the novel Slaughter at Giant's Coffin and the audio drama Mortarion's Heart. His other Warhammer fiction includes 'The Great Maw' and 'Kaldor Draigo: Knight of Titan', and he has continued to explore the dark legacy of Sotha in 'The Aegidan Oath' and Scythes of the Emperor: Daedalus. He lives and works in the US.