Miller's Antiques Handbook & Price Guide 2018-2019 (Hardcover)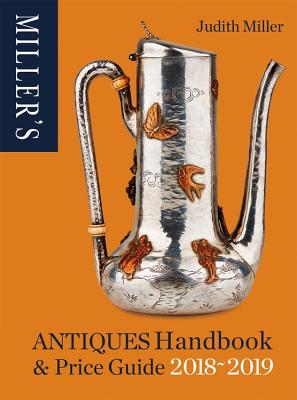 $45.00
Email or call for price.
Description
---


Miller's Antiques Handbook & Price Guide remains the essential and trusted guide to the antiques market. Completely revised and updated, this guide is the book no dealer, collector or auctioneer should be without. It is compiled by Judith Miller, world-renowned antiques expert and co-founder of the book, who selects the guide's 8,000-plus featured antiques.

The images in the book are changed for every edition to keep the guide up to date with collecting and buying trends. The antiques are shown in full color with detailed descriptions and a current price range. Special "Judith Picks" sections give fascinating background and valuation details for particularly interesting or unusual objects.

Comprehensive sections cover ceramics, furniture, glass, silver and metalwares, jewellery and objets de vertu, clocks and watches, books, Oriental antiques, textiles, toys, decorative arts and Modern classics. Special features explain why one piece is worth more than another, show how to value an item and teach you to be your ownappraiser. Biographies of designers and factories give the background information you need to help date and value objects. Whether you're buying or selling, this is the book you need.

About the Author
---
Judith Miller began collecting in the 1960s while a student at Edinburgh University in Scotland. She has since extended and reinforced her knowledge of antiques through international research, becoming one of the world's leading experts in the field. In 1979 she co-founded the international best-seller Miller's Antiques Price Guide and has since
written more than 100 books which are held in high regard by collectors and dealers.

Judith Miller appears regularly on TV and radio. She is an expert on the BBC 's Antiques Roadshow and has co-hosted the popular BBC series The House Detectives, ITV's Antiques Trail, and Discovery's It's Your Bid. She has appeared on The Martha Stewart Show and C NN. She is a regular lecturer and contributor to numerous newspapers and magazines, including the Financial Times, the Daily Telegraph, BBC Homes & Antiques and House & Garden. She has lectured extensively, including at the V&A in London and the Smithsonian in Washington.

Judith's most recent books include Miller's Art Deco.