Animaux Mandala 3D Black Background Livre de coloriage pour adulte: coloriage Anti-Stress pour Adultes: 50 Mandalas à colorier (Paperback)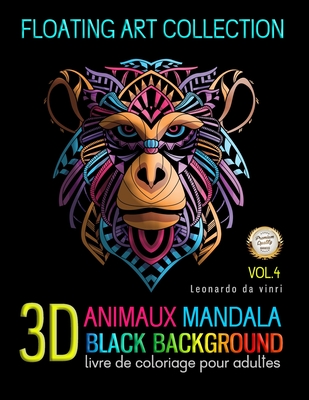 $9.54

Usually Ships in 1-5 Days
This book cannot be returned to Book Moon.
Description
---
Profitez de la nouvelle collection magnifique 3D Animal avec ce magnifique livre de coloriage pour adulte.
Livres colorier pour la relaxation des adultes: Beaux animaux: livre de coloriage pour adultes avec des dessins pour soulager le stress
Achetez-le maintenant Cadeau pour vos amis ou votre famille ou vous-m me.
Le livre de coloriage New Collection est un mod le simple qui vous permet de remplir sans effort des pages avec l'une de vos couleurs pr f r es. Nous avons galement inclus des images de portraits en gros plan et des conceptions de tout le corps afin que vous ayez de nombreuses options de quoi colorier ensuite.

Pourquoi vous aimerez ce livre

Coloriages relaxants.
Belles Illustrations. Nous avons inclus des images uniques pour vous permettre d'exprimer votre cr ativit et de cr er des chefs-d'oeuvre.

Pages recto. Chaque image est plac e sur sa propre page dos noir pour r duire le probl me de fond perdu que l'on trouve dans d'autres livres colorier.
Id al pour tous les niveaux de comp tence. Vous pouvez colorier chaque page comme vous le souhaitez et il n'y a pas de mauvaise fa on de colorier (m me si vous tes d butant).
Fait un merveilleux cadeau. Connaissez-vous quelqu'un qui aime colorer? Faites-les sourire en leur en obtenant galement une copie. Vous pourriez m me colorier ensemble
Convient tous les niveaux de comp tence. Ce livre de coloriage offre une grande vari t de mod les adapt's tous les niveaux de comp tence - du niveau d butant au niveau expert.
Un grand cadeau. Les livres colorier font un merveilleux cadeau et les livres colorier sont souvent l'un des articles les plus dou's.

Achetez maintenant et d tendez-vous.Faites d filer vers le haut de la page et cliquez sur le bouton Ajouter au panier