Goldfish Ghost (Hardcover)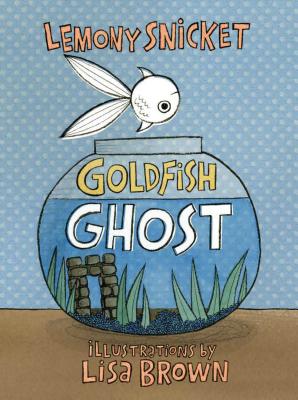 Description
---
Goldfish Ghost was born on the surface of the water in the bowl on a dresser in a boy's room. The boy's room was pleasant and familiar, but Goldfish Ghost wanted company, so he set out to find a friend.
He floats over the neighborhood, past the pier, and let the breeze carry him into town where he discovers that not many people pay attention to goldfish ghosts.
Off he floats, searching for the perfect home and the perfect friend
and then he hears a voice. . .
Bestselling author Lemony Snicket and illustrator Lisa Brown brings us a fresh and funny take on what happens after your favorite goldfish crosses over to the other side.
A Neal Porter Book
About the Author
---
Lemony Snicket is the author of far too many books for children, including The Dark, which won the Charlotte Zolotow Award, and 13 Words, which didn't. Despite his best efforts, his series All The Wrong Questions and A Series of Unfortunate Events have allegedly sold more than 70 million copies and been translated into thirty-nine languages.

Lisa Brown is an award-winning writer and illustrator of many picture books and comics. She is allegedly married to Lemony Snicket and definitely lives in San Francisco.
Praise For…
---
*"In the field of pet bereavement narratives, this one stands out for tenderness, originality, and subtlety."—Horn Book, starred review
*"Can a book about death and the afterlife be refreshing and funny? In the hands of Snicket and Brown, indeed it can. This oddball offering should find a welcome home in any picture book collection."—School Library Journal, starred review
*"Line and watercolor art gives Goldfish Ghost an unexpected robustness as he palely wafts through the steely sky, balanced by the busyness of the earthly scenes below him; he's a reassuringly homey and accessible ghost even in his un- earthly state. Like Snicket's The Dark (BCCB 6/13), this could be a way to make uncomfortable spaces friendlier; it's also a logical go-to for smaller pet death, and adults who come to snicker will leave unexpectedly moved."—Bulletin of the Center for Children's Books, starred review
"A lovely, untrammeled look at a pet's afterlife."—Kirkus Reviews
"Don't expect this ghost story to slip by unnoticed."—Booklist
"Goldfish Ghost is an enigmatic hero—is he lonely, or just fussy?—but Snicket's portrayal of the lighthouse keeper's intuitive kindness and Brown's subdued, moonlit landscapes resolve the story with moments of magic."—Publishers Weekly