The Chemical Wedding by Christian Rosencreutz: A Romance in Eight Days by Johann Valentin Andreae in a New Version (Paperback)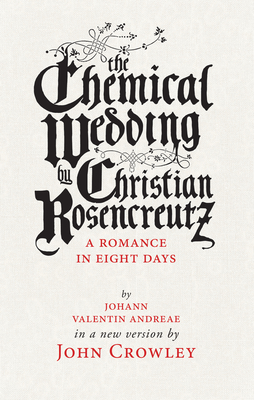 $16.00
Email or call for price.
Description
---
Praise for John Crowley:
Like a magus, John Crowley shares his secrets generously, allowing us to believe that his book is revealing the true and glorious nature of the world and the reader's own place within it.--Village Voice
Crowley] transforms the lead of daily life into seriously dazzling artistic gold.--Newsday
Often de-scribed as an alchemical allegory, John Crowley instead decided this is the first science fiction novel. After all it's fiction; it's about the possibilities of a science; and it's a novel. No matter what else it might be, it's definitely one of the great outlandish stories in Western literature. With eight appropriately weird and fascinating black and white woodcuts by Theo Fadel.
John Crowley was born in Presque Isle, Maine, in 1942. He moved to New York City after college in Indiana to make movies, and did find work in docu-mentary films, an occupation he still pursues. He has published many novels including the Ae-gypt quartet and Little, Big. He teaches creative writing at Yale University. In 1992 he received the Award in Literature from the American Academy and Institute of Arts and Letters. He finds it more gratifying that almost all his work is still in print.
Theo Fadel has a BA in Archeology (Bryn Mawr) and a Master of Architecture from Co-lumbia University. Currently her studio is in Easthampton, and she's been in Massachusetts less than a hundred years. This is the first book she has illustrated.
About the Author
---
Theo Fadel: Since illustrating The Chemical Wedding Theo Fadel has discovered she is the eleventh great grandniece of Robert Fludd who defended the Rosy Cross manuscripts in 1616. He mentions building his own wooden robots and other things impossible by mere mathematics without the co-operation of natural magic. Theo lives in Holyoke, Massachusetts with her spouse Ruth and four cats in a charmingly old house that stands by natural magic. A native Charlottean and enthusiastic somnambulist, she grew up within a half mile of PTL's broadcast studio and Billy Graham's mother, watching Star Trek and Batman in a Peter Max bathrobe. When science sacrificed the moon program she turned to Dungeons & Dragons. She has a BA in Archeology from Bryn Mawr College and a Master of Architecture from Columbia University. She studied drawing, sculpture and painting at the Art Students League, NYC while working in an old German cabinet shop. Her first day there an aged Austrian said One hundred years and you're the first woman we've seen. Currently her studio is in Easthampton, her website is theofadel.com and she's been in Massachusetts less than a hundred years. This is the first book she has illustrated.