Thieves: A Diving Novel (Paperback)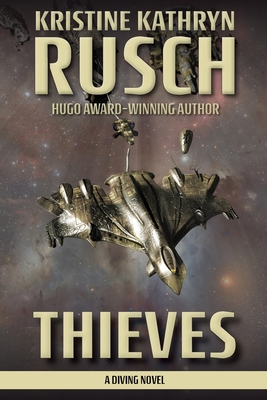 $21.99
Usually Ships in 1-5 Days
Other Books in Series
This is book number 9 in the Diving series.
Description
---
A race against time.
Weeks after Boss' injury from the runabout dive, she continues the mission to salvage Fleet wrecks for the Lost Souls Corporation. But Boss feels like she lost something after that fateful dive.
Until something happens in the Boneyard to catch her attention. Something that sparks her interest with an intensity she thought she lost.
Now, Boss must assemble a team-her old team-to dive this new discovery.
But Boss worries that someone knows her plans. That the Boneyard might prove more sentient than she knows.
She feels the clock ticking-and she worries time will run out once and for all.
A thrilling new adventure, Thieves provides pulse-pounding new developments in Kristine Kathryn Rusch's award-winning Diving series.
Praise for the Diving Universe:
"By mixing cerebral and investigative elements, emotional character segments, and the adrenaline of action, Rusch tells a complete yet varied tale that will please science fiction readers looking for something different from the usual fare."
-Publishers Weekly on Searching for the Fleet
"Think of the Diving universe as an exciting mystery saga, pitting the drama of ship salvage against the dangers of space."
-Astroguyz
"Kristine Kathryn Rusch is best known for her Retrieval Artist series, so maybe you've missed her Diving Universe series. If so, it's high time to remedy that oversight."
-Don Sakers, Analog
" The Runabout] is so good, it will make you want to read the other stories."
-SFRevu
"Amazing character construction, building a plot that riveted me almost from the moment it began. I will now absolutely have to read the preceding titles and I cannot wait to see what will come as a result of The Runabout."
-Tangent Online