The Ministry for the Future (Compact Disc)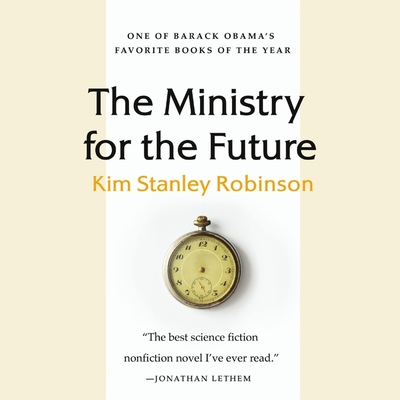 $40.00
Email or call for price.
Staff Reviews
---
I find this novel hard to recommend but also hard not to just ask you to stop reading this and start reading it. Robinson's an optimist and there is some huge hand waving in a few sections where large swaths of various populaces start behaving in ways that are better for the planet and for us. But besides that, this is a clear-eyed view of the way that the next few decades might unroll.
This has one of the darkest starts to a novel I've read and the point of view character isn't the one I'd expected or hoped for in that situation but I am writing my reservations out first so that I can get to the rest of the book. Robinson is as comfortable describing an Irish middle-aged politician's swimming routine as he is describing global weather interactions. The point of view shifts between a few characters, some of whom know more than others. The questions posed are on a global scale: if there are 500 people, mostly men, who control the oil production and distribution in the world, should they be held accountable for the present and future cost of that oil?
It is a great, huge, scary book. I could hardly put it down even as I sometimes wished it would just go away. But, for those of us lucky enough to survive, the future isn't going away and Robinson's great achievement is that he shows that there are some people out there who will do the work of equality and justice, not just for some, but for all.
— Gavin
Description
---
Established in 2025, the purpose of the new organization was simple: To advocate for the world's future generations and to protect all living creatures, present and future. It soon became known as the Ministry for the Future, and this is its story.
From legendary science fiction author Kim Stanley Robinson comes a vision of climate change unlike any ever imagined.
Told entirely through fictional eye-witness accounts, The Ministry For The Future is a masterpiece of the imagination, the story of how climate change will affect us all over the decades to come.
Its setting is not a desolate, post-apocalyptic world, but a future that is almost upon us - and in which we might just overcome the extraordinary challenges we face.
It is a novel both immediate and impactful, desperate and hopeful in equal measure, and it is one of the most powerful and original books on climate change ever written.
Also by Kim Stanley Robinson:
Red Moon
New York 2140
2312
Aurora
Shaman