Michael Vey Books One and Two: The Prisoner of Cell 25; Rise of the Elgen (Paperback)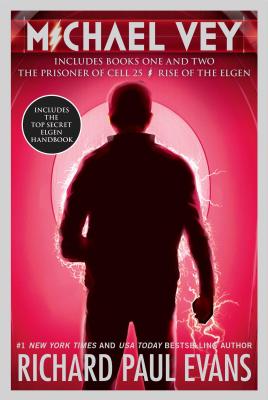 $13.99
Email or call for price.
Description
---
Together for the first time, two electrifying adventures from New York Times bestselling author Richard Paul Evans, with special bonus feature The Elgen Handbook!

To everyone at Meridian High School, Michael Vey is an ordinary fourteen-year-old. In fact, the only thing that seems to set him apart is the fact that he has Tourette's syndrome. But Michael is anything but ordinary. Michael has special powers. Electric powers.

This collection includes:

Prisoner in Cell 25
Michael thinks he's unique until he discovers that a cheerleader named Taylor also has special powers. With the help of Michael's friend, Ostin, the three of them set out to discover how Michael and Taylor ended up this way, but their investigation brings them to the attention of a powerful group who wants to control the electric children – and through them the world. Michael will have to rely on his wits, powers, and friends if he's to survive.

Rise of the Elgen
A mysterious voice leads the Electroclan to the jungles of Peru in search of Michael's mother. Once there, they discover that Dr. Hatch and the Elgen are far more powerful than anyone realizes; entire countries have begun to fall under their control. Only the Electroclan and an anonymous voice now stand in the way of the Elgen's plan for global domination. But is the voice that Michael is following really an ally, or is it just another Elgen trap?

Bonus Content: The Elgen Handbook
Learn the secrets of the Elgen. Who are they? How is their organization put together? Who's in charge? And what happens to those who defy the leadership? The best way to defeat your enemy is to learn all about them!
About the Author
---
Richard Paul Evans is the #1 bestselling author of The Christmas Box. Each of his more than thirty-five novels has been a New York Times bestseller. There are more than thirty-five million copies of his books in print worldwide, translated into more than twenty-four languages. He is the recipient of numerous awards, including the American Mothers Book Award, the Romantic Times Best Women's Novel of the Year Award, the German Audience Gold Award for Romance, five Religion Communicators Council Wilbur Awards, the Washington Times Humanitarian of the Century Award and the Volunteers of America National Empathy Award. He lives in Salt Lake City, Utah, with his wife, Keri, and their five children. You can learn more about Richard on Facebook at Facebook.com/RPEFans, or visit his website RichardPaulEvans.com.