Hellhole: Awakening (The Hellhole Trilogy #2) (Paperback)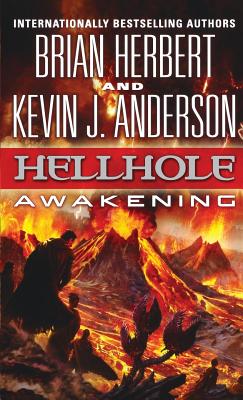 Other Books in Series
This is book number 2 in the The Hellhole Trilogy series.
Description
---
In this exhiliarting sequel to Brian Herbert and Kevin J. Anderson's Hellhole, the stakes on planet Hallholme have been raised to new heights.

After declaring his independence from the corrupt Constellation, rebel General Adolphus knows the crackdown is coming. Now he needs to pull together the struggling Hellhole colony, the ever-expanding shadow-Xayan settlement, and his connections with the other Deep Zone worlds. Even then, he doubts his desperate measures will be enough.

Diadem Michella Duchenet has collected a huge space fleet led by Commodore Escobar Hallholme, son of the hero who originally defeated Adolphus. They expect resistance from the General's rebels, but who could possibly stand up to such a mighty fleet?

Adolphus knows he's running out of time, but he still has some hope—the shadow-Xayans have banded together to defend their sacred planet with "telemancy," but can they discover new powers to protect all the stored alien lives on the already devastated world? And when all hope seems lost, the awakened Xayans reveal information hidden even from their own followers—the existence of a bigger threat that makes even the Constellation fleet seem insignificant.

Disaster has come for General Adolphus and Hellhole…and this time there is no escape.
About the Author
---
Brian Herbert, son of Frank Herbert, wrote the definitive biography of his father, Dreamer of Dune, which was a Hugo Award finalist. Brian is president of the company managing the legacy of Frank Herbert and is an executive producer of the motion picture Dune, as well as of the TV series Dune: The Sisterhood. He is the author or coauthor of more than forty-five books, including multiple New York Times bestsellers, has been nominated for the Nebula Award, and is always working on several projects at once. He and his wife, Jan, have traveled to all seven continents, and in 2019, they took a trip to Budapest to observe the filming of Dune.

Kevin J. Anderson has written dozens of national bestsellers and has been nominated for the Hugo Award, the Nebula Award, the Bram Stoker Award, and the SFX Readers' Choice Award. His critically acclaimed original novels include the ambitious space opera series The Saga of Seven Suns, the epic fantasy trilogy Wake the Dragon, steampunk adventures Clockwork Angels and Clockwork Lives (with legendary Rush drummer Neil Peart), as well as the thrillers Stake and Kill Zone (with Doug Beason). He is the publisher of WordFire Press and the director of the graduate program in publishing for Western Colorado University. He also set the Guinness-certified world record for the largest single-author book signing.
Praise For…
---
"Hellhole is a militaristic SF story of galactic proportions… Brilliant strategist, lover of Old Earth history, and cast-off of a now-defunct noble line, Adolphus is a Robin Hood for the galaxy to unite behind. The characters are easy for the reader to believe in, brought to life through not only their own emotions but also the responses and thoughts of the individuals around them." —Booklist, starred review

"Combines the best of space opera with galactic intrigue and a cast of memorable characters. Fans of David Weber's Honor Harrington series and the Star Wars® novels should enjoy a new entry into this popular category." —Library Journal on Hellhole

"Unquestionably, Herbert & Anderson can spin a great yarn while producing a vivid, mystifying universe, filled with characters that are both endearing, and loathsome." —BookSpotCentral on The Winds of Dune

"Herbert and Anderson create vivid characters--both human and machine--with passionate goals." —RT Bookreviews on Dune: The Battle of Corin

"Exploring the universe created by the late Frank Herbert in his eco-classic Dune, the authors delve into the childhood of the boy who would become Paul Muad'Dib and lead a desert planet in a war that unseats a corrupt emperor. Introducing the world of Dune to a new generation of readers, this novel maintains a high standard of storytelling and world building." —Library Journal on Paul of Dune