The First Family: A Novel (Hardcover)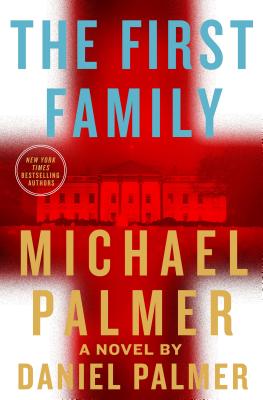 Description
---
The President's teenaged son is threatened by a potentially fatal illness that is rooted in dark secrets from a long-buried past.

President Geoffrey Hilliard and his family live in the ever-present glare of the political limelight, with relentless scrutiny of their daily lives. The White House is not an easy place to grow up, so when the President's son Cam, a sixteen-year-old chess champion, experiences extreme fatigue, moodiness, and an uncharacteristic violent outburst, doctors are quick to dismiss his troubles as teen angst. But Secret Service agent Karen Ray, whose job is to guard the president's family with her life, is convinced Cam's issues are serious – serious enough to summon her physician ex-husband for a second opinion.

Dr. Lee Blackwood's concerns are dismissed by the president's team – until Cam gets sicker. Lee must make a diagnosis from a puzzling array of symptoms he's never seen before. His only clue is a patient named Susie Banks, a young musical prodigy who seems to be suffering from the same baffling condition as Cam. Hospitalized after an attempt on her life by a determined killer, Susie's jeopardy escalates as Cam's condition takes on a terrifying new dimension.

Is someone trying to murder the President's son?

As Lee and Karen race for a cure to Cam's mysterious and deadly disease, they begin to uncover betrayals that breach the highest levels of national security.

Returning to the same Washington, DC setting of The First Patient, which former President Bill Clinton said "captured the intense atmosphere of the White House," The First Family is a riveting new medical drama from acclaimed novelist Daniel Palmer, in the tradition of his late father, New York Times bestselling novelist Michael Palmer.

Praise for The First Family:

"Terrifying and all too plausible—Daniel Palmer continues his father's tradition of delivering authentic and high-velocity medical suspense. The combination of medical chills and high-level Washington make The First Family irresistible." —Joseph Finder, New York Times bestselling author of Paranoia and The Switch

"Palmer's The First Family gives you likable characters to root for, a top-notch villain, and enough excitement to make your hair curl. Have fun with this thriller." —Catherine Coulter, author of The Devil's Triangle

"Double the trouble, twice the action, and quadruple the enjoyment, this is a high-octane game changer." —Steve Berry, New York Times bestselling author of The Bishop's Pawn and The Lost Order

"High-stakes and intelligent, The First Family is everything you want in a medical thriller. Chilling!"
—Robert Dugoni #1 Amazon, Wall Street Journal and New York Times bestselling author of My Sisters Grave

"The First Family is adrenaline-fueled entertainment that twists, turns, surprises and satisfies!" -John Lescroart, New York Times bestselling author

"A Palmer novel transports you into the complex world of medical-legal-social ethics. The First Family doesn't disappoint, wrestling with the murky questions of what we can do versus what we should do. Gripping." —Kathy Reichs, New York Times bestselling author and creator of Bones

"Daniel Palmer's latest thriller The First Family seamlessly blends genomics, politics, and life in the White House into a riveting potboiler of a story. If you crossed the best of Robin Cook's medical mysteries with the insider authenticity of David Baldacci's political thriller, you'd end up with a book like this, a story that grabs you by the throat and won't let go until the last page is turned." —James Rollins, New York Times bestselling author of The Seventh Plague
About the Author
---
Michael Palmer (1942-2013) wrote internationally bestselling novels of medical suspense, including The First Patient, The Second Opinion, The Last Surgeon, A Heartbeat Away, Oath of Office and Political Suicide. His book Extreme Measures was adapted into a movie starring Hugh Grant and Gene Hackman. His books have been translated into thirty-five languages.

Palmer earned his bachelor's degree at Wesleyan University, and he attended medical school at Case Western Reserve University. He trained in internal medicine at Boston City and Massachusetts General Hospitals. He spent twenty years as a full-time practitioner of internal and emergency medicine. In addition to his writing, Palmer was an associate director of the Massachusetts Medical Society Physician Health Services, devoted to helping physicians troubled by mental illness, physical illness, behavioral issues, and chemical dependency.

He lived in eastern Massachusetts.
DANIEL PALMER is the author of several critically-acclaimed suspense novels, including
Delirious
and
Desperate
. After receiving his master's degree from Boston University, he spent a decade as an e-commerce pioneer. A recording artist, accomplished blues harmonica player, and lifelong Red Sox fan, Daniel lives in New Hampshire with his wife and two children, where he is currently at work on his next novel.
Praise For…
---
Praise for The First Family:

"What makes this story shine is the mix of compelling characters and intriguing science...Daniel is as adept as his father was at finding suspense in the intricacies of medicine." —Booklist

"Terrifying and all too plausible—Daniel Palmer continues his father's tradition of delivering authentic and high-velocity medical suspense. The combination of medical chills and high-level Washington make The First Family irresistible." —Joseph Finder, New York Times bestselling author of Paranoia and The Switch

"Palmer's The First Family gives you likable characters to root for, a top-notch villain, and enough excitement to make your hair curl. Have fun with this thriller." —Catherine Coulter, author of The Devil's Triangle

"Double the trouble, twice the action, and quadruple the enjoyment, this is a high-octane game changer." —Steve Berry, New York Times bestselling author of The Bishop's Pawn and The Lost Order

"High-stakes and intelligent, The First Family is everything you want in a medical thriller. Chilling!"
—Robert Dugoni #1 Wall Street Journal and New York Times bestselling author of My Sisters Grave

"The First Family is adrenaline-fueled entertainment that twists, turns, surprises and satisfies!" -John Lescroart, New York Times bestselling author

"A Palmer novel transports you into the complex world of medical-legal-social ethics. The First Family doesn't disappoint, wrestling with the murky questions of what we can do versus what we should do. Gripping." —Kathy Reichs, New York Times bestselling author and creator of Bones

"Daniel Palmer's latest thriller The First Family seamlessly blends genomics, politics, and life in the White House into a riveting potboiler of a story. If you crossed the best of Robin Cook's medical mysteries with the insider authenticity of David Baldacci's political thriller, you'd end up with a book like this, a story that grabs you by the throat and won't let go until the last page is turned." —James Rollins, New York Times bestselling author of The Seventh Plague