Password Book I'll Never Forget You: Internet Address & Password Logbook: Keep track of: usernames, Wifi Passwords, Web Addresses in one easy & organi (Paperback)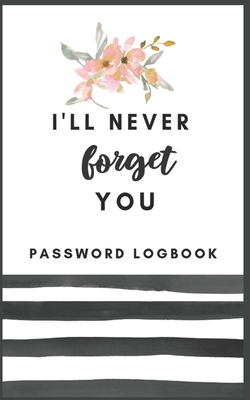 $7.16

Usually Ships in 1-5 Days
This book cannot be returned to Book Moon.
Description
---
FORGOT YOUR PASSWORD? This is the perfect Internet Password Logbook to protect usernames record and store the necessarily complex, keep track of password information: Internet Passwords: WiFi Passwords, Network Information, Software Licenses Usernames, Credit Card Info; Web addresses Computer-Related Notes and more ; store in one easy and organized location, keep them all together in one convenient place and secure.

The Book Contains:
Easily to Find What you are looking for.
Directory Alphabetical organized pages

Perfect size 5 inches By 8 inches, easy for tucking in a purse or bag so it's always handy, or it conveniently to put on a desk or table.

110 pages with beautiful soft-touch paper cover.
Keep all your passwords in one place and never forget a password again.
The Notebook Contains Spaces For Name, Website Address, Login Username, Password, Security Question and notes
Included Websites usernames and passwords: Credit Card Information: Home Network Information: WiFi Password and Network ID: Guest WiFi Password and Network ID.Software License Keys, notes pages and more.

Printed on quality paper.

Made in the USA