The Consuming Fire (The Interdependency #2) (Mass Market)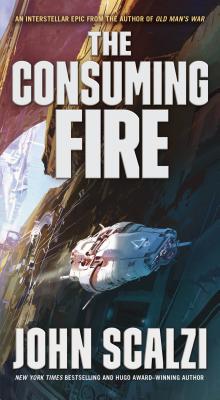 Other Books in Series
This is book number 2 in the The Interdependency series.
Description
---
io9's New Sci-Fi and Fantasy Books You Need to Put On Your Radar This Fall
Kirkus' SF/F Books to Watch Out for in 2018
Popular Mechanics Best Books of 2018 (So Far)
Goodreads' Most Anticipated Fantasy and Science Fiction Books

The Consuming Firethe sequel to the 2018 Hugo Award Best Novel finalist and 2018 Locus Award-winning The Collapsing Empirean epic space-opera novel in the bestselling Interdependency series, from New York Times bestselling author John Scalzi
The Interdependencyhumanitys interstellar empireis on the verge of collapse. The extra-dimensional conduit that makes travel between the stars possible is disappearing, leaving entire systems and human civilizations stranded.
Emperox Grayland II of the Interdependency is ready to take desperate measures to help ensure the survival of billions. But arrayed before her are those who believe the collapse of the Flow is a mythor at the very least an opportunity to an ascension to power.
While Grayland prepares for disaster, others are preparing for a civil war. A war that will take place in the halls of power, the markets of business and the altars of worship as much as it will between spaceships and battlefields.
The Emperox and her allies are smart and resourceful, as are her enemies. Nothing about this will be easy... and all of humanity will be caught in its consuming fire.
The Interdependency Series
1. The Collapsing Empire
2. The Consuming Fire
About the Author
---
John Scalzi won the 2006 John W. Campbell Award for Best New Writer, the 2013 Hugo Award for Best Novel for Redshirts, and his debut novel Old Mans War was a finalist for Hugo Award as well. His other books include The Ghost Brigades, The Androids Dream, The Last Colony and The Human Division. He has won the Romantic Times Reviewers Choice Award for science-fiction, the Seiun, The Kurd Lasswitz and the Geffen awards. His weblog, The Whatever, is one of the most widely-read web sites in modern SF. Born and raised in California, Scalzi studied at the University of Chicago. He lives in southern Ohio with his wife and daughter.
Praise For…
---
Praise for The Consuming Fire

"Another fast-paced romp through Scalzi's imagination, bearing hallmarks of his humorous slant on sf tropes." Library Journal

Praise for The Collapsing Empire
"Provocative and unexpected." The Wall Street Journal
"Scalzi has constructed a thrilling novel so in tune with the flow of politics that it would feel relevant at almost any time." Entertainment Weekly, Grade B+
"Scalzi builds a fascinating new interstellar civilization in order to destroy it....[The Collapsing Empire is] amusing escapism full of guts and brains." Ars Technica
"Scalzi mixes science, history, and politics with sharp action and intriguing characters. Readers will be thrilled to take another wild ride across the universe with the author of the Old Mans War series." Library Journal, starred review
"Fans of Game of Thrones and Dune will enjoy this bawdy, brutal, and brilliant political adventure" Booklist
"Scalzi continues to be almost insufferably good at his brand of fun but think-y sci-fi adventure." Kirkus Reviews
Praise for John Scalzi

As much as Scalzi has the scientific creativity of Michael Crichton, he also has the procedural chops of a Stephen J. Cannell to craft a whodunit with buddy-cop charm and suspects aplentymost of them in someone elses body. USA Today on Lock In
"If anyone stands at the core of the American science fiction tradition at the moment, it is Scalzi." The Encyclopedia of Science Fiction, Third Edition
Plenty of action, great character development, vivid and believable world-building, and a thought-provoking examination of disability culture and politics. . . . Yet more evidence that Scalzi is a master at creating appealing commercial fiction. Kirkus Reviews (starred review) on Lock In