Steampunk! An Anthology of Fantastically Rich and Strange Stories (Paperback)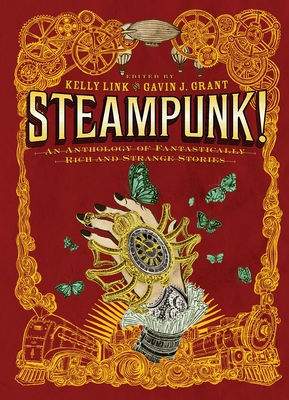 $19.99
Email or call for price.
Description
---
"Chockful of gear-driven automatons, looming dirigibles, and wildly implausible time machines . . . should please steampunks of all ages." — Publishers Weekly (starred review)

Imagine an alternate universe where tinkerers and dreamers craft and re-craft a world of automatons, clockworks, calculating machines, and other marvels that never were. Visionaries Kelly Link and Gavin J. Grant have taken a genre already rich, strange, and inventive and challenged fourteen masters of speculative fiction, including two graphic storytellers, to embrace its established themes and refashion them in surprising ways and settings. The result is an anthology that defies its genre even as it defines it.
About the Author
---
Praise For…
---
Steampunk is hot at the moment in literature, art and fashion: This collection taps into the ethos without ever seeming topical or transient, thanks to contributions rich with much more than just steam and brass fittings. . . . An excellent collection, full of unexpected delights.
—Kirkus Reviews (starred review)

Veteran editors Link and Grant serve up a delicious mix of original stories from 14 skilled writers and artists...Chockful of gear-driven automatons, looming dirigibles, and wildly implausible time machines, these often baroque, intensely anachronistic tales should please steampunks of all ages.
—Publishers Weekly (starred review)

Within these pages, there's a little something for everyone...This exceptional anthology does great service to the steampunk subgenre and will do much to further its audience.
—School Library Journal (starred review)

Editors Link and Gavin treat fans, old and new, to an array of fantastically rich stories in this polished, outstanding collection...the result is an anthology that is almost impossible to put down… From rebellious motorists to girl bandits, the characters in this imaginative collection shine, and there isn't a weak story in the mix; each one offers depth and delight.
—Booklist (starred review)

It is about time that steampunk short stories really got a focused and creative exploration in YA lit, and this anthology of fourteen pieces is an excellent start.
—Bulletin of the Center for Children's Books (starred review)

In a genre based upon the re-imagining and reinvention of history, these authors manage to take their characters-and readers-to bold new frontiers.
—The Horn Book

All the stories are of consistent excellence, with surprises galore… Steampunk! will appeal to teen—and adults—for its originality of execution, variety of settings and the pure panache displayed by its 14 authors and artists.
—Shelf Awareness for Readers

Steampunk! is excellent anthology that showcases a fantastic genre. In fact, the majority of these stories are enthralling, and the characters are intriguing and usually easy to relate to. Overall, this is a rich and captivating collection.
—SLJ Teen (a SLJ newsletter)

With a host of various heroes and villains-"scientists and schoolgirls, fair folk and Romans, intergalactic bandits, Utopian revolutionaries, and intrepid orphans" among them-Steampunk! would be a fine starting point for anyone curious about this genre as these popular authors more than live up to their reputations.
—BookPage

Each story challenges the boundaries of the steampunk aesthetic, while standing on its own as thoughtful, insightful works of short fiction...For those not so pedagogically inclined, it's got my vote for the best collection of steampunk I've seen so far, not only as steampunk tales, but as damn fine short stories in their own right.
—Tor.com (Barnes & Noble Bestseller's Picks)

The anthology is geared to a YA readership, but I think adults who are fans of steampunk will enjoy many (or all) of the tales presented here.
—GeekDad (a Wired blog)

Hot, hot, hot. Each of the stories is it's own unique little gem.
—Someday My Printz Will Come (SLJ blog)

This collection of short stories, including two graphic shorts, is a crazy cool compilation of the hybrid genre that is steampunk. The blending of historical and science fiction is flawless and the graphic shorts with detailed illustrations are a nice addition.
—Library Media Connection

From wish fulfillment to neo-noir, there's a story in this collection for everyone, newcomers and genre devotees alike.
—San Francisco Book Review