Pretty Monsters: Stories (Hardcover)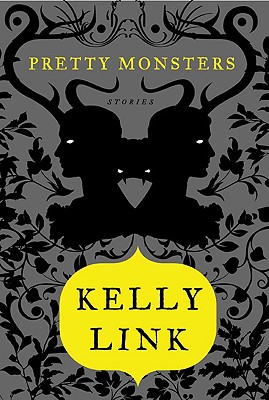 $19.99
Email or call for price.
Winter 2009 Kids' List
---
"You'll find a little bit of everything in this book, from a mother-daughter team of ghost collectors to a cult-like organization waiting for aliens to return to Earth. Kelly Link gives us great stories in this collection -- a wonderful (and thought-provoking) read."
— Samuel Morris Barker, Summer's Stories, Kendallville, IN
Description
---
Kelly Link has lit up adult literary publishing?and Viking is honored to publish her first YA story collection. Through the lens of Link's vivid imagination, nothing is what it seems, and everything deserves a second look. From the multiple award-winning ?The Faery Handbag, ? in which a teenager's grandmother carries an entire village (or is it a man-eating dog?) in her handbag, to the near-future of ?The Surfer, ? whose narrator (a soccer-playing skeptic) waits with a planeload of refugees for the aliens to arrive, Link's stories are funny and full of unexpected insights and skewed perspectives on the world. Her fans range from Michael Chabon to Peter Buck of R.E.M. to Holly Black of "Spiderwick Chronicles" fame. Now teens can have their world rocked, too.
About the Author
---
Kelly Link lives in Northampton, Massachusetts, where she and her husband, Gavin J. Grant, run Small Beer Press and publish the zine "Lady Churchill s Rosebud Wristlet" (www.lcrw.net)."
Praise For…
---
"Readers as yet unfamiliar with Link ("Magic for Beginners") will be excited to discover her singular voice in this collection of nine short stories, her first book for young adults. The first entry, "The Wrong Grave," immediately demonstrates her rare talents: a deadpan narration that conceals the author's metafictional sleight-of-hand ("Miles had always been impulsive. I think you should know that right up front"); subjects that range from absurd to mundane, all observed with equidistant irony. Miles, hoping to recover the poems he's buried with his dead girlfriend, digs up what appears to be the wrong corpse ("It's a mistake anyone could make," interjects the narrator), who regains life and visits her mother, a lapsed Buddhist ("Mrs. Baldwin had taken her Buddhism very seriously, once, before substitute teaching had knocked it out of her"). Other stories have more overtly magical or intertextual themes; in each, Link's peppering of her prose with random associations dislocates readers from the ordinary. With a quirky, fairytale style evocative of Neil Gaiman, the author mingles the grotesque and the ethereal to make magic on the page."–Publishers Weekly, starred review

"Although some of Link's work appears in other YA and adult short-story anthologies, this is her first collection wholly aimed at a young-adult audience. Weirdly wonderful and a touch macabre, the nine short stories take readers into worlds with elements of reality but also supply a fantastic twist. The opening story, "The Wrong Grave," plays into the current trend of books featuring the dead and the undead; in it, a boy whose girlfriend dies wants to dig her up to retrieve the poems he put in her coffin. "Magic for Beginners" centers on a boy whose closest friendships form around a TV show with a loyal following but no set broadcast time or channel. Erudite, economical word choices give readers a strong sense of setting without drowning them in adjectives. The humor is dry and the characters are easy to relate to, even in alien (literally and figuratively) settings. Fantasy readers used to long, single tomes may hesitate at the short-story format, but once they see these, they will want more."–Kirkus Reviews, starred review



"Link, who has two breathlessly received books of strange, surrealistic tales for adults under her belt, makes the leap into the YA fold with this collection of short stories (most previously published in separate anthologies) that tug at the seams of reality, sometimes gently, sometimes violently. In nearly every one of these startlingly, sometimes confoundingly original stories, Link defies expectations with such terrific turnarounds that you are left precipitously wondering not only "What's going to happen now?" but also "Wait, what just happened?" Her conception of fantasy is so unique that when she uses words like ghost or magic, they mean something very different than they do anywhere else. Perhaps most surprisingly—and memorably— is Link's dedicated deadpan delivery that drives home how funny she can be, no matter how dark the material gets. After gobbling up a group of campers, a monster with a self-proclaimed sense of humor bargains with the terrified lone survivor, "How about if I only eat you if you say the number that I'm thinking of? I promise I won't cheat. I probably won't cheat." Shaun Tan contributes a handful of small illustrations that are, of course, just plain delightful."–Booklist, starred review



"In her first collection of stories for young adults, Link upends traditional horror, science fiction, and fantasy motifs, creating original, quirky, and distinctly beautiful literary landscapes. Honed, brilliant language renders blood, werewolves, ghosts, magic, and monsters sublime–at times even funny. Readers will relish uncertainty in these savory, strange stories and never feel quite sure of their footing. They proceed giddily, jumping from one uncanny premise, phrase, or image to the next, eventually stumbling upon a revelation that hits them like the snap of a rubber band. Clever resolutions and tricky plots place teens on delightfully circuitous reading paths. Unexpected endings force them to double back and reconsider each story from the beginning. In this second read, young adults might notice Link's seamless incorporation of their own experiences. Awkward adolescence, uncomfortable first love, frustrating parents, and complicated friendships surface quietly amid wonderfully knotty, twisted plots and incandescent imagery. This compilation of intricate, transfixing selections succeeds in making the weird wonderful and the grotesque absolutely gorgeous."–School Library Journal