Striking the Balance (Worldwar, Book Four) (Mass Market)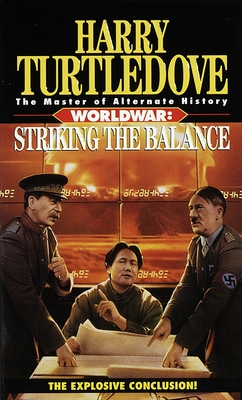 Other Books in Series
This is book number 4 in the Worldwar series.
Description
---
At the bloody height of World War II, the deadliest enemies in all of human history were forced to put aside their hatreds and unite against an even fiercer foe: a seemingly invincible power bent on world domination.

With awesome technology, the aggressors swept across the planet, sowing destruction as Tokyo, Berlin, and Washington, D.C., were A-bombed into submission. Russia, Nazi Germany, Japan and the U.S. were not easily cowed, however. With cunning and incredible daring, they pressed every advantage against the invader's superior strength, and, led by Stalin, began to detonate their own atom bombs in retaliation.

City after city explodes in radioactive firestorms, and fears grow as the worldwide resources disappear; will there be any world left for the invaders to conquer, or for the uneasy allies to defend?

While Mao Tse-tung wages a desperate guerrilla war and Hitler drives his country toward self-destruction, United States forces frantically try to stop the enemy's push from coast to coast. Yet in this battle to stave off world domination, unless the once-great military powers take the risk of annihilating the human race, they'll risk losing the war.

The fatal, final deadline arrives in Harry Turtledove's grand, smashing finale to the Worldwar series, as uneasy allies desperately seek a way out of a no-win, no-survival situation: a way to live free in a world that may soon be bombed into atomic oblivion.
About the Author
---
Harry Turtledove is the award-winning author of the alternate-history works The Man with the Iron Heart, The Guns of the South, and How Few Remain (winner of the Sidewise Award for Best Novel); the Hot War books: Bombs Away, Fallout, and Armistice; the War That Came Early novels: Hitler's War, West and East, The Big Switch, Coup d'Etat, Two Fronts, and Last Orders; the Worldwar saga: In the Balance, Tilting the Balance, Upsetting the Balance, and Striking the Balance; the Colonization books: Second Contact, Down to Earth, and Aftershocks; the Great War epics: American Front, Walk in Hell, and Breakthroughs; the American Empire novels: Blood and Iron, The Center Cannot Hold, and Victorious Opposition; and the Settling Accounts series: Return Engagement, Drive to the East, The Grapple, and In at the Death. Turtledove is married to fellow novelist Laura Frankos. They have three daughters—Alison, Rachel, and Rebecca—and two granddaughters, Cordelia Turtledove Katayanagi and Phoebe Quinn Turtledove Katayanagi.