Splintered Suns (Paperback)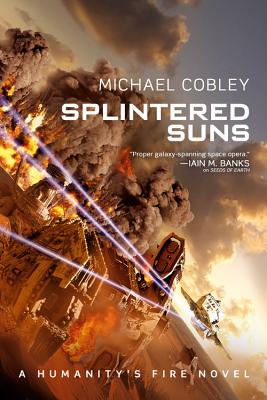 Description
---
A speed of light space adventure novel of a treasure hunt that could unlock all the wonders of a vast and advanced civilization's lost technologies.

For Pyke and his crew it should have been just another heist. Travel to a backwater desert planet, break into a museum, steal a tracking device then use it to find a ship buried in the planet's vast and trackless sandy wastes.

Except that the museum vault is a bio-engineered chamber, and the tracking device is sought-after by another gang of treasure hunters led by an old adversary of Pyke's, the devious Raven Kaligara. Also, the ship is quarter of a million years old and about two kilometres long and somewhere aboard it is the Essavyr Key, a relic to unlock all the treasures and technologies of a lost civilization . . .
About the Author
---
Michael Cobley was born in Leicester, England and has lived in Glasgow, Scotland for most of his life. He has studied engineering, been a DJ and has an abiding interest in democratic politics.

His previous books include the Shadowkings dark fantasy trilogy and Iron Mosaic, a short story collection. Seeds of Earth, The Orphaned Worlds, and The Ascendant Stars, books one, two and three of the Humanity's Fire sequence, were his first full-length forays into space opera.
Praise For…
---
"Splintered Suns splices new and old space opera, cyberpunk, quest fantasy, and heist caper - the maddest thing I've read since Van Vogt!"—Ken MacLeod, author of The Corporation Wars trilogy

"Bold and unstoppable ... a wild ride across a funhouse cosmos."—Paul Di Filippo, author of The Steampunk Trilogy

"Splintered Suns is a raucous romp and a rollicking roller-coaster of a space adventure that is brimming with miscreants, races, rogues, scoundrels and heart."—The Tattooed Book Geek

"Proper galaxy-spanning Space Opera ... a worthy addition to the genre."—Iain M. Banks on Seeds of Earth

"The invention is endless."—SFX on Seeds of Earth

"A well-constructed space opera...a thick and satisfying 10-course meal of starchy pageantry, meaty characters, bitter losses, and sweet romance."—Publishers Weekly on Seeds of Earth

"Seeds of Earth has everything: well-realised extraterrestrials, scheming artificial intelligences, set-piece space battles and bizarre technology from the dawn of the galaxy."—The Guardian (UK) on Seeds of Earth

"Space opera has never been in more capable hands."—The Guardian (UK) on The Orphaned Worlds

"Michael Cobley has added a fine piece of work to a grand tradition."—SF Crow's Nest on The Ascendant Stars