The Ministry for the Future: A Novel (Hardcover)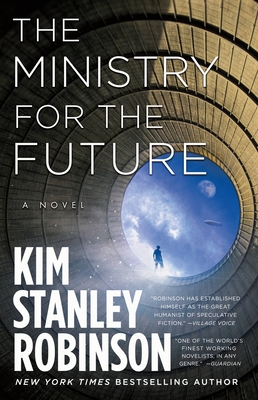 Staff Reviews
---
I find this novel hard to recommend but also hard not to just ask you to stop reading this and start reading it. Robinson's an optimist and there is some huge hand waving in a few sections where large swaths of various populaces start behaving in ways that are better for the planet and for us. But besides that, this is a clear-eyed view of the way that the next few decades might unroll.
This has one of the darkest starts to a novel I've read and the point of view character isn't the one I'd expected or hoped for in that situation but I am writing my reservations out first so that I can get to the rest of the book. Robinson is as comfortable describing an Irish middle-aged politician's swimming routine as he is describing global weather interactions. The point of view shifts between a few characters, some of whom know more than others. The questions posed are on a global scale: if there are 500 people, mostly men, who control the oil production and distribution in the world, should they be held accountable for the present and future cost of that oil?
It is a great, huge, scary book. I could hardly put it down even as I sometimes wished it would just go away. But, for those of us lucky enough to survive, the future isn't going away and Robinson's great achievement is that he shows that there are some people out there who will do the work of equality and justice, not just for some, but for all.
— Gavin
Description
---
From legendary science fiction author Kim Stanley Robinson comes a remarkable vision of climate change over the coming decades. 

One of Barack Obama's Favorite Books of 2020

"If I could get policymakers, and citizens, everywhere to read just one book this year, it would be Kim Stanley Robinson's The Ministry for the Future." —Ezra Klein

The Ministry for the Future is a masterpiece of the imagination, using fictional eyewitness accounts to tell the story of how climate change will affect us all. Its setting is not a desolate, postapocalyptic world, but a future that is almost upon us—and in which we might just overcome the extraordinary challenges we face.

It is a novel both immediate and impactful, desperate and hopeful in equal measure, and it is one of the most powerful and original books on climate change ever written.

"The best science fiction-nonfiction novel I've ever read." —Jonathan Lethem, Vanity Fair

"A breathtaking look at the challenges that face our planet in all their sprawling magnitude and also in their intimate, individual moments of humanity." —Booklist (starred)

"A sweeping, optimistic portrait of humanity's ability to cooperate in the face of disaster. This heartfelt work of hard science-fiction is a must-read for anyone worried about the future of the planet." —Publishers Weekly (starred)

"The Ministry for the Future ranks among Robinson's best recent works, a collection of actions and observations that adds up to more than the sum of its eclectic and urgent parts." —Sierra


Also by Kim Stanley Robinson:
Red Moon
New York 2140
2312
Aurora
Shaman
About the Author
---
Kim Stanley Robinson is a New York Times bestselling author and winner of the Hugo, Nebula, and Locus awards. He is the author of more than twenty books, including the bestselling Mars trilogy and the critically acclaimed Forty Signs of Rain, The Years of Rice and Salt and 2312. In 2008, he was named a "Hero of the Environment" by Time magazine, and he works with the Sierra Nevada Research Institute. He lives in Davis, California.
Praise For…
---
"[A] compelling work of speculative fiction about solving the climate crisis around the world... This story is heavy but important. Be prepared to lose sleep as you won't want to pause for anything."—AudioFile on The Ministry for the Future

"Score a point for the audacity of hope....Robinson digs deep into how, with institutional support and some off-the-books black ops, revolutionary ideas could still seize our world."—Shelf Awareness on The Ministry for the Future

"[A] gutsy, humane view of a near-future Earth...Robinson masterfully integrates the practical details of environmental crises and geoengineering projects into a sweeping, optimistic portrait of humanity's ability to cooperate in the face of disaster. This heartfelt work of hard science-fiction is a must-read for anyone worried about the future of the planet."—Publishers Weekly (starred) on The Ministry for the Future

"A breathtaking look at the challenges that face our planet in all their sprawling magnitude and also in their intimate, individual moments of humanity."—Booklist on The Ministry for the Future

"If there's any book that hit me hard this year, it was Kim Stanley Robinson's The Ministry for the Future, a sweeping epic about climate change and humanity's efforts to try and turn the tide before it's too late."—Polygon (Best of the Year) on The Ministry for the Future

"In The Ministry for the Future, his twentieth novel, science fiction author Kim Stanley Robinson creates something truly remarkable."—Yale Climate Connections on The Ministry for the Future

"Tremendously engaging."—Chicago Review of Books on The Ministry for the Future

"Science-fiction visionary Kim Stanley Robinson makes the case for quantitative easing our way out of planetary doom."—Bloomberg Green on The Ministry for the Future

"One hopes that this book is read widely—that Robinson's audience, already large, grows by an order of magnitude. Because the point of his books is to fire the imagination."—New York Review of Books on The Ministry for the Future

"If I could get policymakers, and citizens, everywhere to read just one book this year, it would be Kim Stanley Robinson's The Ministry for the Future... Robinson is one of the greatest living science fiction writers."—Ezra Klein on The Ministry for the Future

"...fresh and exciting. Another stellar effort from one of the masters of the genre."—Booklist (starred) on Red Moon

"Enjoyable and thought-provoking...[Robinson] is one of contemporary science fiction's great scene-setters."—SF Chronicle on Red Moon

"...as convincingly textured and observant as we've come to expect from one of the finest writers of his generation."—Locus magazine on Red Moon

"New York may be underwater, but it's better than ever."—The New Yorker on New York 2140

"Massively enjoyable."—The Washington Post on New York 2140

"Science fiction is threaded everywhere through culture nowadays, and it would take an act of critical myopia to miss the fact that Robinson is one of the world's finest working novelists, in any genre."—Guardian on New York 2140

"[A] near-perfect marriage of the technical and the psychological."—NPR Books on Aurora

"Intellectually engaged and intensely humane in a way SF rarely is, exuberantly speculative in a way only the best SF can be, this is the work of a writer at or approaching the top of his game."—Iain M. Banks on 2312