Chinese Ceramics: From the Paleolithic Period through the Qing Dynasty (The Culture & Civilization of China) (Hardcover)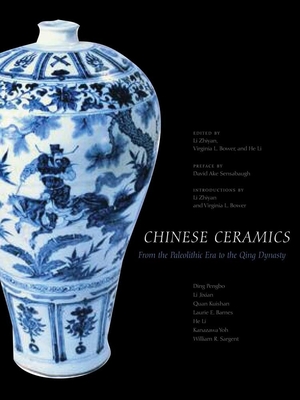 $97.50
Email or call for price.
Description
---
A lavishly illustrated encyclopedic survey of the history of Chinese ceramics from its earliest origins through the Qing dynasty, showing the grace and grandeur of this art form

This lavishly illustrated catalogue is a comprehensive historical review of Chinese ceramics covering newly excavated discoveries from the Paleolithic era thousands of years ago to the end of the Qing dynasty in 1911. Throughout China's history there has been an ongoing practice of invention and innovation in the forms, materials, decorations, and functions of ceramics made in China, both for the domestic market and for its ever-growing trade with foreign markets. The creation of ceramic ware holds a special and very important place among the many arts and inventions that characterize Chinese culture, society, and civilization.
The product of a ten-year collaboration among eminent American, Chinese, and Japanese scholars, Chinese Ceramics offers a new perspective in interpreting the oldest and one of the most admired Chinese art forms, from its technological aspects to its aesthetic value. The volume includes a chapter on Chinese export ceramics that delves into Chinese trade activities and ceramic wares made for export as well as a chapter about the authenticity of Chinese ceramics, discussing issues related to connoisseurship of this Chinese art.
As author He Li writes, "Despite the rich variety of Chinese ceramics around the world, no fully illustrated, photographed survey of a complete history has been attempted in English. [This volume] will convey the excitement of encountering these specially chosen examples for the first time."
About the Author
---
Li Zhiyan is senior research fellow at the National Museum of China and former vice president of the Association of Chinese Ancient Ceramics. Virginia L. Bower is an adjunct associate professor at the University of the Arts, Philadelphia. He Li is associate curator of Chinese art, Asian Art Museum of San Francisco. David Ake Sensabaugh is the Ruth and Bruce Dayton Curator of Asian Art at the Yale University Art Gallery. Ding Pengbo is research fellow at the National Museum of China. Li Jixian is research fellow at the Chinese Institute of Art and a member of the Chinese Society of Archaeology. Quan Kuishan is professor at the School of Archaeology and Museology, Peking University. Laurie E. Barnes is Elizabeth B. McGraw Curator of Chinese Art at the Norton Museum of Art. Kanazawa Yoh is a curator at the Idemitsu Museum of Arts, Tokyo. William R. Sargent is an independent scholar and curator, and the former curator of Asian export art at the Peabody Essex Museum.
Praise For…
---
"This is essential for scholars and admirers of Chinese ceramics, the history of Asia, and art in general."—David McClelland, Library Journal

"In-depth overview . . . of value not only to scholars of Chinese ceramics but to collectors as well. The many full-color illustrations . . . as well as the very recent scholarship included in the discussions are what will make this book a most valuable addition to any library collection and a standard work for years to come." —ARLIS/NA Reviews

"Impressive in size and scope, this book is the ultimate reference on Chinese ceramics. . . . essential."—Choice

". . . a most valuable addition to any library collection on Chinese art and very likely a standard work for years to come."—Daniela Yew, Art Libraries Society of North America